GEEKY ABOUT THE CRAFT OF MAKING CAPS
CAPS HANDCRAFTED IN THE UK IN SMALL WEEKLY BATCHES / SLOW FASHION / ORGANIC & SUSTAINABLY SOURCED FABRICS / ALL CAPS AVAILABLE IN MULTIPLE HEAD-SIZES FROM XS-4XL
Captain's Blog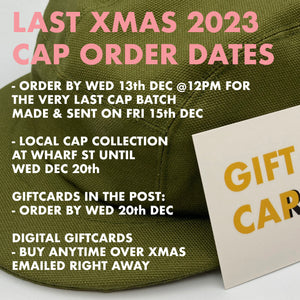 IMPORTANT INFO! LAST POSTAL DATES FOR CAP ORDERS! There's only one cap batch left before Christmas, and once it's full, it will close early! If you want a cap before...
The capalog will be at two markets this weekend fyi! Click on the posters below to go to the organisers instagrams for more info.
The winter events have now kicked off! Next up is Endless Love Creative in Sheffield this weekend! So far I've had open studios and Crafty Fox at The British Library...
All caps are made bespoke to YOUR head size
All the caps are available to order from sizes XS-4XL, that's 10 different sizes in total, not just small medium & large here.
3 sizes just isn't very inclusive, or realistic and well it's annoying when something doesn't quite fit right! So that's why there's all the sizes in between too.
Get your cap to fit snugly and just right!
As a milliner we get really geeky about this stuff too, if you can make it bespoke AND affordably then why not?
Advantages of the capalog being a small batch slow fashion brand AND a former milliner being in charge are that you can get a cap that fits PERFECTLY.
Head-sizing is super simple and just involves one measurement. That's all that is needed from you in order to make a cap to your size. Also because the caps are made in small batches, then there's time to make everything to different sizes.
For more info on sizing click below to take you straight to the sizing page.
HEAD SIZING
FEATURED - Custom Colour Block Panel Caps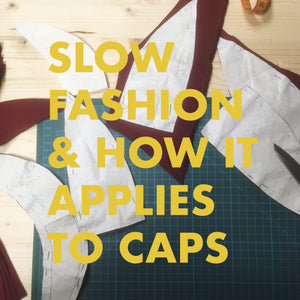 SLOW FASHION & CAPS
A BLOG POST ON WHERE THE CAPALOG STANDS:
Slow fashion is something that is discussed more and more these days and chances are if you're here you've noticed me talk about it too. It is definitely something that is integral to how the cap batches here are made and a big part of how I approach every decision in relation to production.
However it's often hard to tell exactly where a company stands on it, even if they talk about it. But I wanna address that, so anyone who is curious can know a bit more for sure how it factors in and how slow fashion literally is considered re caps.
Slow fashion to the capalog means the products are designed to be purchases that last and kept, the fabric is sourced responsibly and that caps are sewn and made with care and attention to the craft... but without making you as a customer wait too long to get it!
READ MORE